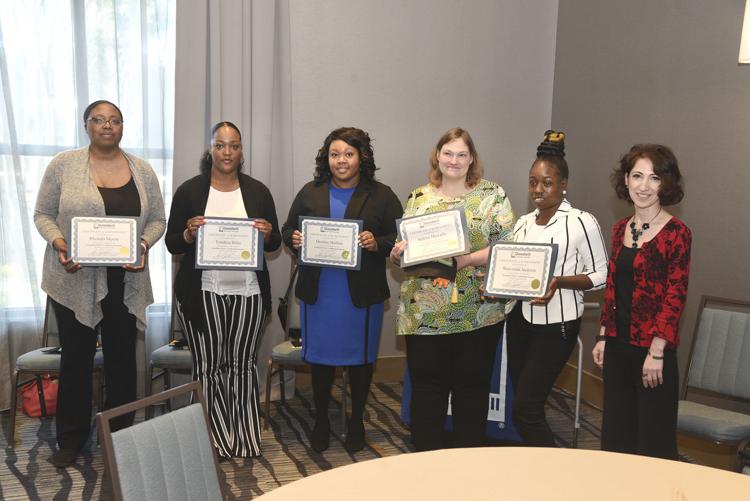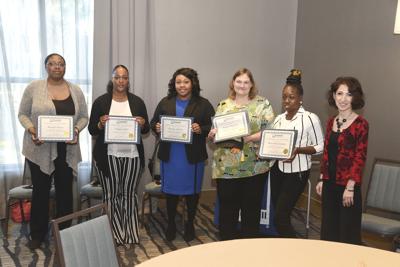 Five new graduates from the hospitality certification program, offered by Goodwill of Southeast Georgia at the Job Connection Center in Brunswick, seized their opportunity several weeks ago by signing up for the program. They graduated Tuesday at a ceremony hosted for friends and family at the Westin on Jekyll Island.
By completing the course, the graduates earned hospitality industry certification, and each were able to interview for positions at the Westin.
"We often underestimate what an opportunity can do for us in life," said Destiny Hollins, one of the graduates. "If we just take the right chance at the right time, we can do a lot."
The free, three-week program covers the basics of the hospitality industry and includes soft skills education and local networking opportunities through partnerships with local hotels. Classes meet Monday through Friday from 9 a.m. to 3 p.m.
"You made a commitment for three weeks. Not a lot of people can do that," said Paul Hartmann, director of rooms at the Westin. "So if told me, going into an interview, you committed to something for three weeks, you're a step above a lot of people … So be proud of your certificate. Be proud of your commitment. Show it off, and put it on your résumé."
Goodwill partnered closely with the Westin to provide opportunities for the course participants, who had a chance not only to interview for positions at the Westin but also to tour the hotel and job shadow employees.
The graduates each thanked Goodwill for the opportunity to take the course, and they especially showed gratitude for the course's instructor, Teona Chaduneli.
Chaduneli said she hopes they see a return on their investment.
"You all chose Goodwill to bring you one step closer to your ultimate goal, to give you tools you need for a better future," she said.
The program is one of many career development services offered at the Goodwill Job Connection Center, located at 249 Village at Glynn Place. The center also offers a job placement program, GED classes, as well as help with résumés and interviewing skills.
The services are supported by donations made to the Goodwill store. The hospitality course, which began in Brunswick about a year ago, offers participants support as they enter the hospitality industry.
"This course is the groundwork for a better future for us, for our careers, for our families," Hollins said.